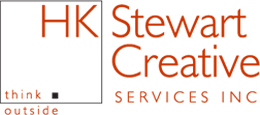 I work as a writer and graphic designer in Little Rock, Arkansas. Since 1988, I've provided marketing, advertising, and communications services to a wide range of corporate, small business, and nonprofit clients through my company, H K Stewart Creative Services, Inc.
That's not the business name I started with, though. I started with Editorial Design & Print Services. I changed it after a couple of years when I became aware that potential clients were trying to find me under my own name in the phone book.
It's weird to find yourself dissolving into a brand.